Detta evenemang har redan ägt rum.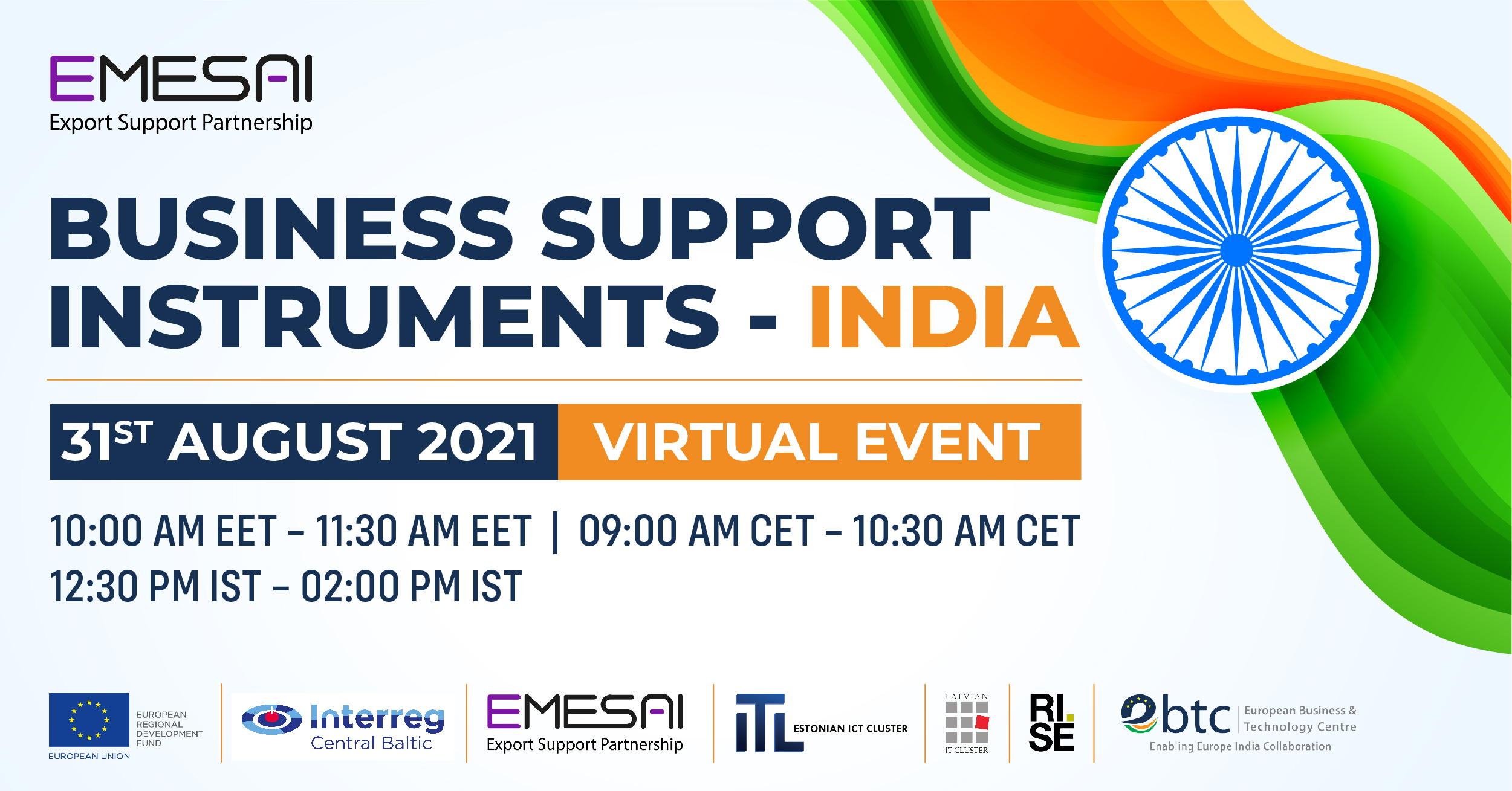 Så lyckas du göra affärer i Indien – möjligheter och utmaningar
Under detta event får du ta del av kunskap och insikter från hur projektet eMesai har stöttat små och medelstora företag i att utforska den indiska marknaden. Du får även ta del av tillgängliga affärsstödsinstrument som kan göra arbetet lättare i att göra affärer i Indien. Eventet kommer att ske på engelska.
BACKGROUND
The objectives of the workshop are:
• To share knowledge of how the eMesai project supported EU SMEs in their exploration of the Indian market, especially considering the COVID-19 pandemic situation.
• To highlight the available business support instruments provided by EBTC for EU SMEs venturing into the Indian market.
• To gather insights, identify synergies and areas of interests to strengthen business collaborations between India and the Baltic countries.
Opening Session
10:00 – 10:05 Welcome Address Mrs. Stina Jonsson, Project Manager at RISE.
10:05 – 10:15 Opportunities and Challenges in doing Business in India (Mr. Joel Fernandes, Associate Director Europe,
European Business and Technology Centre (EBTC) and key expert to the EU-India Policy Dialogue Project)
10:15 – 10:30 Support extended by the eMesai project to EU SMEs in
doing business in India (Mr. Christoffer Andersen and Ms. Simone Jonsson, Project Managers at RISE)
10:30 – 10:40 Protecting your Intellectual Property when doing business in India (Ms. Hana Onderkova,IP Expert, India IP SME
Helpdesk)
View full agenda in pdf here
Intrested?
Sign up today.
---
ABOUT THE ORGANISERS
eMesai: eMesai project strives to increase the Central Baltic SMEs export to Sub-Saharan Africa, India and UAE countries through JOINT export competence building and JOINTLY applying export support tools among SME business networks.
eMesai is unique export support partnership because it is setting up a sustainable Central Baltic  CROSS-BORDER collaboration model by ICT
Clusters in Estonia, Latvia and Sweden for increasing export in target markets.
Estonian ICT Cluster, Latvian IT Cluster and RISE (Research Institutes of Sweden) are the project partners for eMesai.
European Business and Technology Centre: EBTC was institutionalised as a multi stakeholder project in 2008 and co-funded by the European
Commission that transitioned into an independent not-for-profit organisation.
EBTC contributes to the economic ecosystem of the fastest growing economy and its natural partners for a multilateral cooperation, through collaborations for sustainable technologies and innovations.
EBTC's collaborative platforms, clusters and body of knowledge cater to the demands of governments and the private sector for enhanced economic activity. EBTC is self-sustainable and uniquely positioned as an enabler for economic development and opportunities.